In the year 2001, a nonprofit organization named the Internet Archive launched a new tool called the Wayback Machine on the URL:archive.org.
The objective of the Internet Archive was to build a kind of digital library of the internet's history like we save the paper copies of newspapers are saved. It can help you find any news of the past. In the same way, it can help you to learn about the meta and other SEO related things in the history of a website which we will discover here.
Because web-pages are continually changing, the Wayback Machine crawlers frequently visit and cache pages for the archive which you can access freely.
Its main objective to provide past website content at different times for future reference. It helps researchers, historians, and scholars for studies and also supports for SEO professionals and marketers to improve the SEO of an existing website. If your site is a news website or website which has frequent changes or enhancement, then you will get many snapshots but if you have a simple website where you don't update content frequently then you will get very fewer snapshots of your web-pages.
Because of search engine optimization and traffic, whenever you work for a project and that involves frequent changes in traffic either for core site or a competitor, It is one of the first places you should look the cached pages before and after the changes in traffic.
Wayback Machine can help you to find the layout of a live website from the past, and by using google analytics, you can find the peak of your traffic. By utilizing both information, you can find the elements which help you to gain traffic in the past. In this way, you can find the elements that were the cause of the traffic shift in the past.
These elements or factors can be analyzed well because the entire website layout with all HTML, is contained within the cache and help you to find structural or technical changes
Here you can compare the differences between a before and after images of your site or a competitor's and can have a very useful analysis
Following elements, you can analyze by using Wayback Machine are.
Meta Information
Internal Linking
Image usages
The layout of the page
Here are the ways through which you can use Wayback Machine.
Step-1.

Go to archive.org and put your website or web page URL in the given box and click on BROWSE HISTORY button.
Step-2.
Click on any date on which you want to check the web page related information like code or layout have changed
You find the three type of colors in different round sizes like below here
Red means there is an error, could be any server errors
Green indicates a redirections
Blue is a perfect cache without any error there
You should continue picking dates as per the traffic fluctuation you find in your google analytics, and finally, you see the changes which affected the traffic
Here more significant sites, web pages are cached multiple times per day which small pages are cached a few times in a year. You should note that Wayback Machine does this crawling it has no concern with google crawlers and also not relevant that how many times you update your site.
Step-3
As you click on the link on the particular date, your page will load in your browser and along with your website you will see a header from archive.org
Now the time for observation!
Find the structure and content that lead to your search visibility.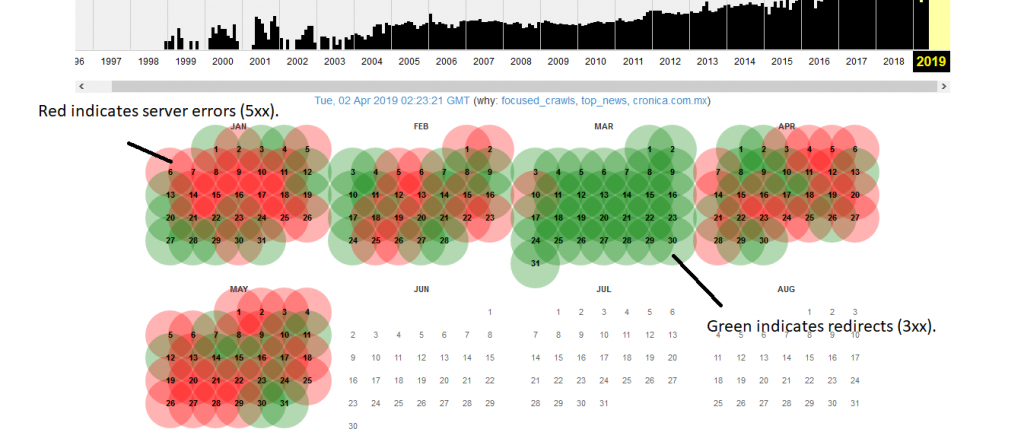 Step-4
Type ctrl+u and you will be in the source code of the same page where you can find many pieces of information related to web page traffic are like
Meta Title
Description
Robots
Canonicals tags
JavaScript
Alternet text
Internal Linking
Type of links like do follow and no follow
Different types of tags
Step-5
Now time for Comparision!
Compare the page with your current and analyze the differences which are causal and correlative in nature.
Now examine each detail thoroughly look at things like words or phrase on the page, cross-links, meta, and many more.
Also check the elements that may affect your conversions such as a call to action button and its position, layout, and its navigation which you had at that time when you have high search traffic.
Here you find Robots.txt file
In archive.org you can find the robots.txt file you have to put "yoursite.com/robots.txt" in the box, and you will get the robots.txt file cache copy this may help you about the crawling permissions, so evidence related to crawling readily available for you.
You can use different tools to compare the HTML of the cached page with the current page.
Competitors Backlink Research or Building Links
Wayback Machine can help you to find the way you can link a particular site.
You can have your competitors links through any tool like Semrush or Ahrefs and find the lost link of your competitors and then put the lost link URL in Archieve.org box and find how your competitors got the link on particular site in the past. It will also help you to find why the link has been disappeared on the competitors' website to an extent.